Team Profile
Michel Abella, Director of Programs for Nexcelle
Nexcelle benefits from the skills and capabilities of the employee teams at its two parent companies: Safran Nacelles and GE Aviation's Middle River Aircraft Systems. The following article is part of a series of profiles on the unique personalities that are shaping Nexcelle's role in the future of integrated propulsion systems.
September 18, 2012
As a competitive cyclist, Michel Abella knows the importance of communication with those who are riding and working with him.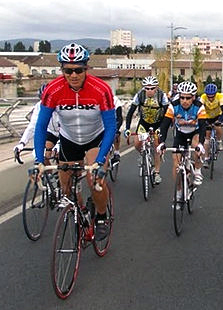 What started with the joy of riding through the countryside as a teenager for Abella – who has served as Nexcelle's Director of Programs since 2009 – grew into a passion which has involved cycling in several speed and endurance races throughout Europe and the U.S. He has competed five times in a multi-day, 1,100-mile tour in France from Paris to Nice, and has participated in 100-mile-long one-day "century" rides in Ohio.
While endurance cycling allows Abella to remain physically and mentally healthy, it also provides him with valuable experience working with a collective group – since cyclists travel in "packs" through the course. With stamina being the objective more than speed, the cyclists ride, share information and adjust to each other to achieve their goals.
Learning to communicate and cooperate with fellow cyclists is a skill Abella carries from the bicycle to the office, with one of his job responsibilities to maintain a working partnership between Nexcelle parent companies Aircelle and Middle River Aircraft Systems. Much like on the race course, Abella makes sure the two partners are collaborating together on decisions, sharing information and offering support to each other when needed.
"Our job at Nexcelle – and this is not only true for myself but for the other people who are at Nexcelle headquarters – is to make sure both partners are working as a team," Abella said.
Abella not only has vast knowledge in teamwork building, but also an impressive aviation background. He served as the director of Aircelle's Toulouse, France podding facility, as well as program manager for the company's nacelles on Airbus A380s, and previously worked as the director of this important operation. Abella also was president and program manager for the Aircelle/Aermacchi nacelle joint venture on General Electric's CF34-8 engine.
Having worked in various responsibilities with the CFM International engine joint venture as well, the idea of starting up a similar partnership in the engine nacelle sector is what drew Abella to his job at Nexcelle.
With the company currently developing engine nacelle systems for commercial and business aircraft with its two program wins on the CFM International LEAP-1C and GE Passport powerplants, information is moving through Nexcelle headquarters as quickly as some of Abella's fellow cyclists – making the teamwork concept as important as ever.
"It's busy times and very interesting times at Nexcelle, where decisions have to be taken fast, and there is a lot of coordination on the inside with the parent companies and on the outside with the customers," he concluded.