Team Profile
Tony Excoffon, Aircelle's North America Regional Sales & Marketing Director, and the Commercial Manager for Nexcelle
Nexcelle benefits from the skills and capabilities of the employee teams at its two parent companies: Safran Nacelles and GE Aviation's Middle River Aircraft Systems. The following article is part of a series of profiles on the unique personalities that are shaping Nexcelle's role in the future of integrated propulsion systems.
August 30, 2011
For Tony Excoffon, life is an adventure.  His pastimes involve such extreme sports as off-trail skiing that take Excoffon to Mount Rainier, Mount St. Helens and other summits; paragliding challenges that included a flight from the top of Europe's Mount Blanc starting at an altitude of 4,810 meters; along with parachute jumps, scuba diving, mountain climbing and general aviation flying.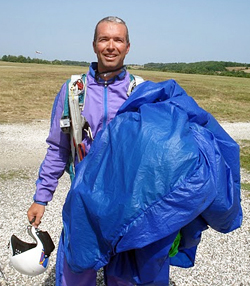 Excoffon's professional life also has taken an adventurous path, with his 19-year career spent entirely within the Safran group.
As an engineer by training, Excoffon worked in Safran's space division on the Viking bipropellant rocket engines for Europe's Ariane 4 commercial launch vehicle, along with the cryogenic HM-7 upper stage motor for Ariane 4 and its Ariane 5 successor.  He also was the program head for the high-speed liquid oxygen turbopump used in the Vulcain cryogenic main engine on Ariane 5.
For these duties, Excoffon often was dispatched to French Guiana in South America, where Ariane is operated from the tropical Spaceport launch site.
Joining Aircelle in 2003, he had involvement in nacelle programs for the BR710 engine on Gulfstream's G500 and Bombardier's Global Express, and then moved to his current base of operations in Seattle, Washington as the company's Regional Sales & Marketing Director for North America.
Excoffon also has responsibility as Nexcelle's Commercial Manager, which places him on the front lines while the joint venture develops its market presence and educates the aviation sector on the capabilities of integrated propulsion systems.
"Nexcelle is a real industrial adventure, which interests me the most from a management point of view," he explained.  "This joint venture provides something that is more than the simple merging of expertise from its Aircelle and Middle River Aircraft Systems parent companies – because it allows us to challenge the ways we develop new integrated propulsion systems as well as bring together our best practices."